If you're a small business, you'll find that a lot of your success will be riding on that all-important first impression, specifically the checkout page. The great news is that investing in a quality WooCommerce checkout field editor plugin can help you optimize your checkout page for maximum conversion.
However, WordPress users seem to be rather spoiled for choice when it comes to checkout plugins. With so many on the market, a small business owner like yourself might struggle to make an informed pick. To help solve that, this piece delves into some choice WooCommerce plugins aimed at improving checkout.
But before you go ahead and examine your options, it's worth addressing why that matters.
Why You Need The Best Checkout Management Plugin For WooCommerce
Online shoppers tend to be a fickle bunch, and the slightest inconvenience can cause them to flee. Already, most online stores experience high cart abandonment rates, especially among mobile users. To help maintain conversions and sales, you need to introduce efficiency into your checkout.
That is precisely why you need premium-quality WooCommerce plugins for custom checkout pages. Here are some features that they can help ensure on your online stores.
WooCommerce Checkout field editors for help stores implement auto-fill, single-page checkout, and other features that contribute to a more streamlined shopping experience. This increases customer satisfaction and lowers the likelihood of abandoned carts. 
These plugins enable online stores to revamp every aspect of their checkout page to something more unique, from individual fields to the overall process and flow. So, you can align your checkout to your brand goals and facilitate your audience at the same time.
Strategically positioned and validated fields are difficult to achieve without a dedicated WooCommerce plugin. They make it easier to collect data that helps you elevate personalization, build on customer lifetime values, and make the most of loyalty programs
The Best WooCommerce Plugins For Managing Checkout
Rather than run the gamut of checkout tools that are available online, we'll be focusing on a selection of top-rated WooCommerce checkout field editors for .
The Checkout Manager by Jcodex is a highly versatile plugin that is built with user experience in mind. Not only do you gain access to more field types, but with it, you can customize checkout forms to your heart's content. With immense personalization and a stunning interface, it has everything you need to really elevate your online register.
Top Features
Conditional Logic: Declutter your checkout by displaying or fields based on particular criteria.
Field Validation: Eliminate errors and security risks from your checkout forms.
Rearrange Fields: Simply drag and drop fields to achieve the checkout flow you desire.
Custom CSS: Allow the design of your fields to match that of your store.
WPML Compatibility: Make sure that your checkout experience caters to non-English speakers.
Checkout Field Editor for WooCommerce
If you want full control over your checkout page, the ThemeHigh Checkout Field Editor is another useful tool. It does a lot more than simplify the ability to edit, remove, and rearrange fields. More than that, it offers better personalization compared to the default settings, while helping you make more informed checkout design choices.
Top Features
Drag-and-Drop Builder: This lets you reposition fields in a quicker and easier manner.
Field Cloning: Promptly make duplicates of existing fields without having to re-enter crucial details.
Custom Labels: Rename fields to overcome the limitations of default labels.
Zapier Support: Let's you integrate a wide range of e-commerce tools and automate tasks.
Checkout Field Manager for WooCommerce
The Quadlayers Checkout Field Manager allows you to streamline your checkout forms to boost customer satisfaction. Some key selling points for this plugin are its focus towards personalization and a simpler design for field filtration.
Top Features
Custom Fields: You can not only create, but also filter, custom fields to highlight specific data.
Email notifications: Add custom fields to post-checkout emails, with filtration capabilities.
Field Cloning: Quickly duplicate fields for quicker and more robustcustomization.
File Uploads: Pro users can upload images and other files for a more bespoke layout.
Flexible Checkout for WooCommerce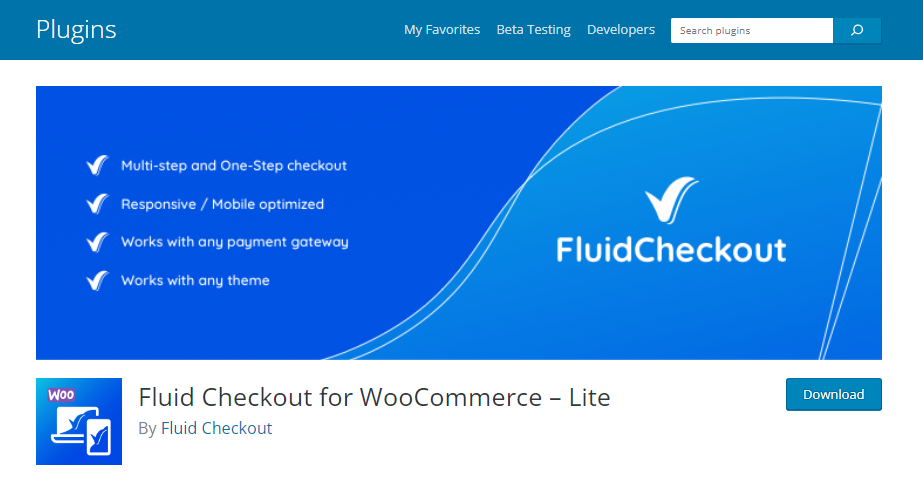 As the name suggests, this WooCommerce checkout manager specializes in creating a more fluid and accessible checkout experience. With its basic and pro features, you can build a more intuitive and sequential process that makes completing purchases much easier for your buyers.
Top Features
Section Management: Group and manage fields collectively for clearer management.
Single and Multi-Step Checkout: Choose the style that works best for you.
Compatible design: Supports any WordPress theme and payment gateway
Mobile-Friendly: Prioritizes responsiveness for phone users.
Checkout Editor By Acowebs
The Checkout Editor by Acowebs is a robust WooCommerce plugin that promises a checkout design built for your customers' ease and your store's best interests. It helps simplify field and form editing for a checkout that satisfies your business while also helping minimize cart abandonment.
Top Features
Drag-and-Drop Interface: Build a bespoke flow by simple rearrangement of fields.
WPML and PolyLang Support: Cater to non-English speaking buyers during checkout.
Validation Rules: Make data entry more accurate and reliable.
Conclusion : WooCommerce Checkout Field Editor
E-commerce is a game of first impressions, and checkout is a touchpoint that you cannot affort to take for granted. It is crucial that you invest in first-class WooCommerce checkout field editor plugins if you hope to optimize your page for better conversions and sustainable customer trust and loyalty.
In the end, a stunning and competent checkout page is more than properly arranged fields and a wide range of payment gateways. It is a process that needs to tick each box pertaining to customer experience. It should convey professionalism and dedication to your buyers. Fortunately, with quality checkout editing tools like these, that becomes an easier goal to realize.